Hey everyone! Long time no FOTD. Haha hope everyone is having/had a great Friday! The weather in SF has been amazing, sunny at mid 70s! Peeerfection. Anyway thanks for looking and let me know if you have any questions. Thanks loves!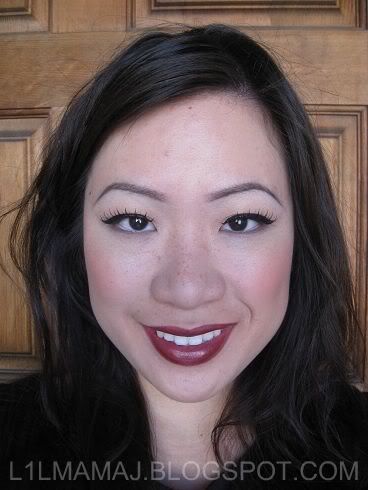 Sorry my hair looks so crazy! This was pre-comb.
LOL this picture scares me cuz it's sooo close up. My nose looks positively huuuge.
Face:
MAC Face & Body
MAC Mineralize Skinfinish Natural
MAC Hipness
MAC Emphasize
MAC Definitive
Eyes:
UDPP
MAC Painterly
MAC Soft Brown (all over lid)
MAC Vanilla Pigment (highlight)
NYX Jumbo Pencil in Milk (lower waterline)
MAC Haux (lower lashline)
L'Oreal HIP Cream Eyeliner in black
MAC #7
Lips:
MAC Burgundy
MAC Viva Glam III
NYX Silver Plum Gloss